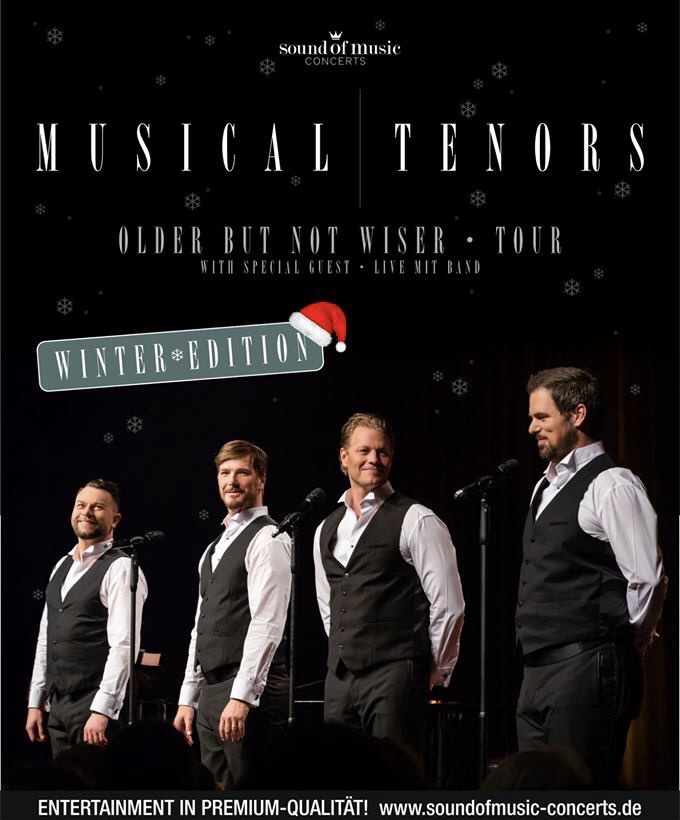 Ort: N.N.
Termin : 2019/12/08 19:30
Sound Of Music Concerts
Andreas Luketa & Markus Tüpker present
MUSICAL TENORS – OLDER BUT NOT WISER-TOUR – WINTER EDITION
MIT JAN AMMANN, CHRISTIAN ALEXANDER MÜLLER, MARK SEIBERT, PATRICK STANKE
LIVE MIT BAND
WITH SPECIAL GUEST
Vier großartige Stimmen – Vier echte Stars der Musicalszene – Vier Ausnahmekünstler!
Während in Deutschland und Österreich der Sommer Einzug gehalten hat, dürfen sich die Fans der MUSICAL TENORS schon jetzt auf den Winter freuen.
Denn ab November 2019 präsentieren JAN AMMANN, CHRISTIAN ALEXANDER MÜLLER, MARK SEIBERT & PATRICK STANKE eine winterliche Edition ihrer OLDER BUT NOT WISER – Tournee mit rund einem Dutzend neuer Songs.
Große romantische Balladen, feine Songperlen aus dem Christian-Pop-Bereich, und Hymnen wie "The Power Of Love" und "You Raise Me Up" werden für jede Menge winterliche Gänsehaut-Momente sorgen und die Wintermonate November und Dezember zu einem Fest für alle Fans der vier charismatischen Sänger werden lassen.
Im Gepäck haben die MUSICAL TENORS zudem Songs aus Ihrem großen Repertoire aus Musical- und Popsongs – viele davon in vierstimmigen Arrangements.
Erleben Sie die schönsten Musicalhits in einem neuen Sound, dargeboten in gewohnt erstklassiger Qualität durch vier echte Stars der Musicalszene!
Die MUSICAL TENORS werden von einer Liveband begleitet – die musikalische Leitung liegt in den bewährten Händen von Mario Stork.
Tickets erhältlich ab Samstag, 08.06.2019, 11:00 Uhr unter www.soundofmusic.de